Energy management embeds energy use and energy efficiency as top priorities in a company's strategic decision-making. It holds continuous improvement as one of its basic principles and evokes a long-term perspective on the issue. One of its main goals is to remove organisational and behavioural barriers to energy efficiency improvement actions.
Energy management is mainly known through the standardised version of ISO 50001, which provides a solid and structured approach tailored to large companies and organisations, and energy-intensive medium-sized companies. Many SMEs may find that seeking to achieve ISO 50001 accreditation is too ambitious because it comes with an inordinate administrative burden. Energy management, however, is not limited to its ISO certified version. It can also be implemented in a simplified and pragmatic way, tailored to the SME type and size.
Energy management stimulates a systems approach to energy efficiency in four ways:
Through the Energy Team—one of the cornerstones of energy management. The team is led by an Energy Manager and includes representation from every operational division of the company. This broad representation counters the negative effects of split budgets and responsibilities The objective is to achieve financial and energy benefits for the company as a whole, rather than individual departments.
By ensuring that evaluating energy efficiency is not exclusive to purchasing and installation staff. Energy management also engages staff on the shop floor, motivating them to question the way workspaces and equipment are used, register equipment defects and downtime, and identify potential energy efficiency measures. It also engages higher management, urging them to incorporate energy efficiency within strategic company planning.
By using life cycle costing (LCC), net present value (NPV), and internal rate of return (IRR) as default instruments to assess the profitability of energy efficiency investments.
By stimulating the adoption of the life-cycle energy efficiency concept within maintenance, equipment replacement, and facility investment planning.
Energy management is not limited to the ISO 50001 certified version — companies can implement a simplified and pragmatic form tailored to their business.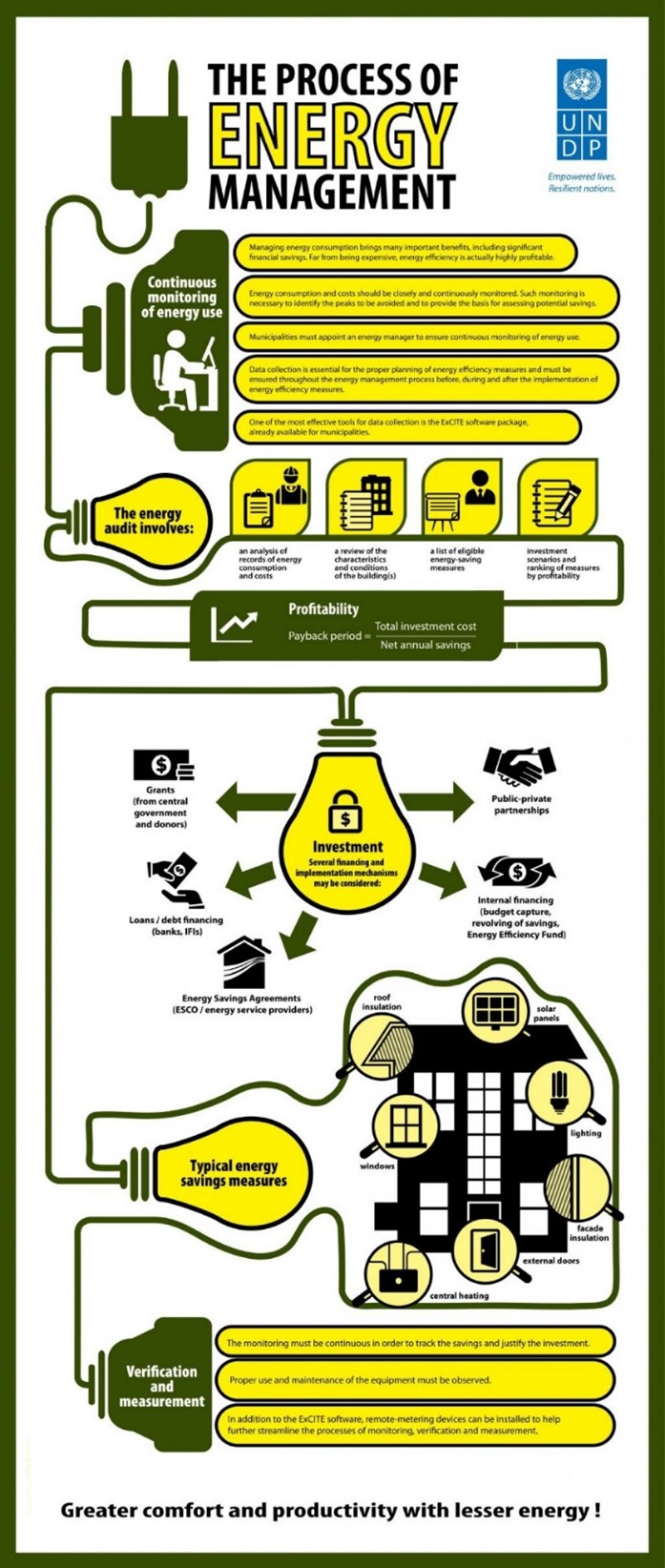 The process of energy management
(Source: UNDP in North Macedonia, licensed under Creative Commons CC BY-NY-SA 2.0)